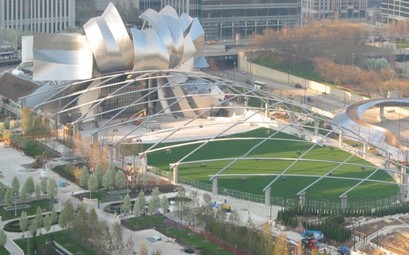 Pritzker Music Pavilion
Millennium Park


Client: City of Chicago
Completed: June 2004
Construction Contract: $43,500,000
Primary Responsibility: Project Manager from award of the Contract to the General Contractor until closeout. Managed two separate contracts with the General Contractor, the Architect, and all Consultants.

This project designed by Gehry Partners is now part of the identity of Chicago. In addition to the curved metal "ribbons" that form the most identifiable part of the Pavilion, the project included a curved metal trellis over the "great lawn", a state of the art sound and lighting system, custom-designed curved wood bandshell, practice rooms and support spaces.

The large proscenium, stage, and choral riser area opens up to the seating by way of 60 foot high sliding glass doors. The project includes a massive trellis system over the lawn area, state of the art sound system, seating for 4000 people, and lawn seating for an additional 7000. The project was completed and opened in July of 2004 with much critical acclaim for the architecture, sound system, public art, and the positive development of what was formerly a railroad right-of-way in north Grant Park.

This was an extremely complex project that included design-build components (panel structure, sliding glass doors, and control mix position movable structure) and many complex engineering and construction challenges. All aspects of management of the project were Paul Clausen's responsibility, including coordination with the other aspects of Millennium Park, which were managed by URS Corporation. This included oversight of Walsh Construction, who had two separate contracts for the work and had two separate project teams.

There were many challenges on this project, only one of which was managing the Architect, Gehry Partners, LLP. Because they are located in California, they were only on-site every two weeks. In their absence, with his extensive architectural and construction management background, Mr. Clausen was able to make daily decisions regarding design and execution of the work. All of the consultants, MEP, Structural, Sound, and Theater were contracted directly with the Owner instead of the Architect. Mr. Clausen wrote and negotiated all of the consultant agreements to establish their accountability to the Owner while preserving the typical Architect/Consultant relationship.
---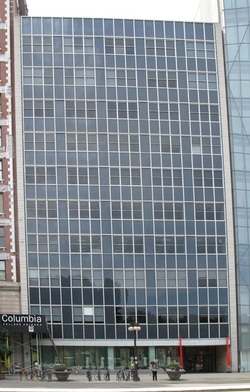 618 South Michigan Avenue


Project: Renovation/Reuse

Columbia College acquired this 70,000 square foot building from the Spertus Institute. Mr. Clausen managed this $14,000,000 project over the course of 18 months, which included gut renovation of 5 floors, paint, carpet and finishes on 5 floors, new infrastructure, and total re-branding of the building for the college. Completed December 2008.


Project: Re-roofing

New roof system on this 10-story building and the elevator penthouse. Completed May 2009.


Project: Facade inspections and Masonry Restoration

Tuck-pointing and replacement of the common brick walls of the elevator penthouse, coping replacement, and repair and re-caulking of the entire curtain wall façade of this 10-story building. Completed November 2009.
---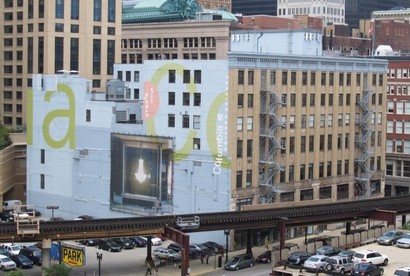 33 East Congress Parkway

Project: Façade Restoration

$1.4 M Restoration of the exterior building facades as a result of critical façade exams conducted in 2009 and in response to city inspection comments.


Rehabilitation of the building facades included terra-cotta repair and replacement, brickwork, fire escape doors, window replacement on the north façade, painting, and general overall exterior envelope repair. Completed May 2012.

Project: Flood Restoration

$400,000 Restoration of the basement Audio Arts and Acoustics department due to flooding. Work conducted on an emergency basis included extensive replacement of acoustic construction, restoration of finishes, and waterproofing. Completed September 2011.

Project: Telepresence Studio and Smart Classroom

$1.2 M build-out of a telepresence room and smart classroom for use in training for emergency responses and crisis communication. Included telepresence room with conference equipment, Perspective Pixels touch screen unit, projection systems, security systems, and mechanical systems upgrades. Completed September 2012.

Project: Sprinkler Upgrades

Installation of sprinkler system in Basement, 1, 3, 4 and 6 of this 6-story, 120,000 square foot 100 year old masonry building. Challenges included pre-action systems, and acoustic isolation for the work in the Audio and Acoustics department. This building is now fully sprinklered. Completed March 2010.

Project: Tenant Build-out work

Gut renovation build-out of the entire 20,000 square foot 5th floor, which included offices, classrooms, student open space, and computer work rooms. This project received LEED certification, and included new mechanical systems with energy recovery, and a green roof on the 4th and 5th floor setbacks. Completed August 2009.

---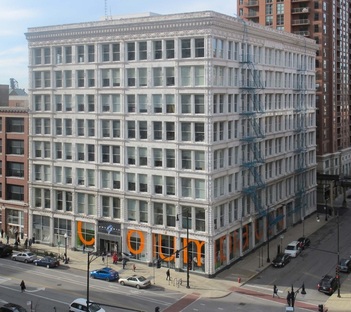 1104 South Wabash

Project: Façade Restoration

This building is known as the Ludington Building, is a National Historic Landmark, and was constructed in 1892. This $1.4 M Restoration of the exterior building façade included significant terra-cotta replacement work, fire escape repairs, and brick replacement. Completed in December 2011. The ground floor and entrance was not part of this project, however, CMS and Klein and Hoffman conducted exploratory work and extensively studied restoration of the entrance and ground floor. This project is expected to continue in 2014 with a $1.5 M ground floor renovation and re-painting of the façade.

Project: Sprinkler Upgrades

Installation of a complete supervised sprinkler system throughout the building including new fire alarm control panel in this 8- story, 160,000 square foot building. Challenges included pre-action systems in the server rooms serving the film department. This building is now fully sprinklered. Completed September 2011.



---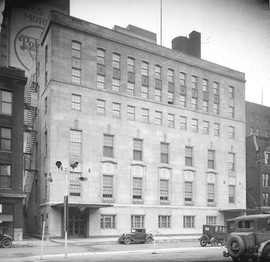 72 East 11th Street


Project: Facade Restoration and Roof Replacement

This project involved the restoration of limestone Building Facades and complete replacement of the roof of this 6-story theater and classroom building. Challenges included intense coordination of the work along with interior renovations occurring in the same time frame. Project cost $950,000. Completed January 2013.

Project: Sprinkler System Installation

Installation of a complete sprinkler system included a new fire alarm system, fire pump, new electrical service and new water service. Work had to be coordinated with the façade project and the theater upgrade projects. Sprinkler pipes were concealed wherever possible, including the first floor theater, which also had a deluge system installed. Project Cost $800,000. Completed September 2012.

Project: Theater Lobby and Black Box Theater Upgrade

Creation of a theater lobby/lounge area on the third floor and upgrade of the fourth floor black box theater to include new lighting systems, electrical upgrades, space reallocation, and handicap accessibility improvements. This work was conducted over the summer and was intensely coordinated with the Façade and Sprinkler projects. Project Cost $1,700,000. Completed September 2012.



---