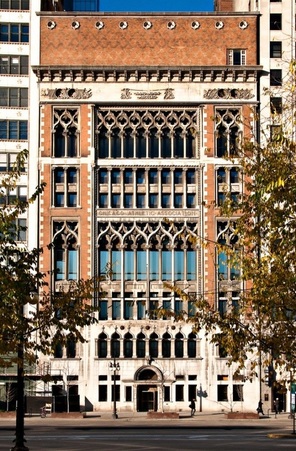 Chicago Athletic Association Renovation
South Michigan Avenue

Client: AJ Capital Partners
Completion: Spring 2014
Construction Contract: TBD
Square Footage: 220,000
Primary Responsibility: Survey, Documents, and Oversight for Abatement and Selective Demolition
Location: 12 South Michigan Avenue
Functions: Former Athletic Club Converted to Boutique Hotel
Contract Type: Guaranteed Maximum Price
Contractor: Bulley and Andrews
Architect: HPA, Inc.

Trades: Abatement, Selective Demolition, Mechanical, Electrical, Plumbing, Sprinkler, Fire Alarm, Steel, Concrete, Carpet, Paint, Ceilings, Roofing, Doors and Hardware, Storefront, Tile, Millwork, General Carpentry, and Finishes

Description: JHF Consulting and Clausen Management Services, Inc. were retained to provide environmental consulting services in support of the conversion of this historic building to a boutique hotel. Designed by Henry Ives Cobb, the building consists of the athletic club on the Michigan Avenue side and an 18-story hotel on the Madison Street side, and has a two-level basement with a mezzanine. The building has been vacant for 6 years.

Historical spaces and finishes on the lower floors of the Michigan Avenue building are being salvaged and restored, and the remainder of the interiors will be a complete gut renovation. Lead paint exists on surfaces throughout the building, and all of the piping and ductwork was insulated with asbestos materials. All of this material will be removed during the demolition phase of the contract, and all-new infrastructure and finishes will be installed.

JHF as the Environmental consultant and Clausen Management Services as Asbestos Designer completed a detailed survey, are providing demolition/abatement documents for bidding by contractors, and will provide oversight of the entire demolition/abatement process.

---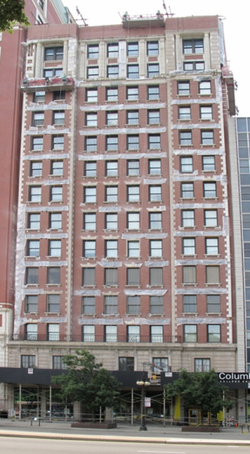 Survey of Regulated Materials – Multiple Locations

Client: Columbia College Chicago
Completed: Ongoing
Construction Contract: N/A
Square Footage: 600 S. Michigan 180,000
33 E. Congress 120,000
624 South Michigan 160,000
623 South Wabash 200,000
1104 South Wabash 160,000
Primary Responsibility: Environmental Surveys and coordination of remediation/repair/removal
Contract Type: Not to Exceed

Trades: Survey, Sampling, and Abatement

Description: Columbia College Chicago retained Clausen Management Services to conduct environmental surveys for various buildings across their campus including 600 South Michigan, 624 South Michigan, 33 East Congress, 623 S. Wabash, and 1104 South Wabash. Survey scope includes sampling and analysis of suspected ACM, XRF lead analysis, and survey of regulated materials for all areas of both buildings. After completion of the survey work, repair/remediation work is planned and executed at each location. In addition to the survey report, an Asbestos Management plan will be developed for the College. Survey of these buildings are part of a larger program for eventual survey of all of the College's existing buildings. Future survey work will include 731 S. Plymouth, 72 E. 11th Street, 1014 S. Michigan, 618 S. Michigan, and 1306/1312 S. Michigan.






---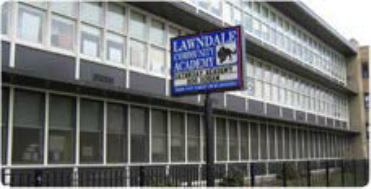 Preparation of Environmental Packages
PBC Group 6 Package - Chicago Public Schools

Client: FH Paschen
Completed: July 2013
Construction Contract: N/A
Square Footage: Lawndale School 196,000
Sumner School 185,835
Johnson School 55,800
Hughes School 47,200
Primary Responsibility: Assemble environmental scope of work, prepare removal design drawings, scope sheets, and specifications, and advise the contractor on coordination and controls.
Contract Type: Hourly

Trades: Survey, and Abatement Documents

Description: As part of the Public Building Commission of Chicago CPS Design/Build renovation program, we provided Environmental packages for four schools. For this work we were provided initial scope estimates, and from there developed likely remediation scope of work based on sample results provided by the PBC's Environmental Consultant. During subsequent walkthroughs with the Contractor we coordinated and finalized the scope of work, and then provided design drawings, scope of work sheets, and specifications for asbestos and lead paint removal.

The work included gross and heat removal of floor tile, glovebag removal of pipe insulation, gross removal of lay-in ceiling tiles, gross removal of ceiling tile glue, and removal/remediation of lead-based paint.
---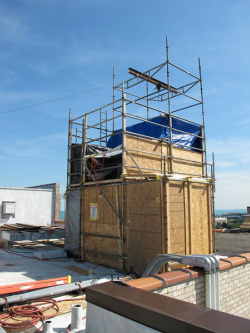 Boiler Stack Replacement
600 S. Michigan

Client: Columbia College Chicago
Completed: October 2012
Construction Contract: $110,000
Primary Responsibility: Owner's Representative, Asbestos Design, Stack Replacement Documents, Coordination

Trades: Boiler Contractor, Abatement Contractor

Contractor: Hayes Boiler, Tecnica Environmental Services, Inc.

Description: The existing 200 foot stack Boiler Stack at 600 S. Michigan was rusted and collapsing, and required replacement. CMS prepared bid documents and asbestos design documents and procured both the boiler stack contractor and the abatement contractor for this work. Removal of the asbestos stack lining took approximately three weeks.

---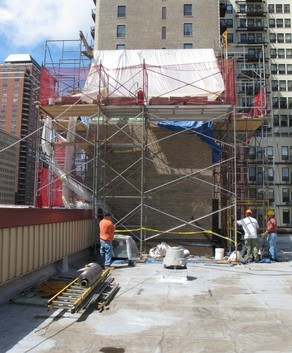 Boiler Stack Replacement
72 E. 11th Street

Client: Columbia College Chicago
Completed: August 2011
Construction Contract: $250,000
Primary Responsibility: Owner's Representative, Asbestos Design, Coordination

Trades: Masonry Contractor, Abatement Contractor

Contractor: Mark 1 Masonry, Tecnica Environmental Services, Inc.

Description: The Boiler Stack at 72 E. 11th Street was rusted and collapsing and required replacement. The project included replacement of the penthouse roof and penthouse concrete and masonry restoration. The existing 100 foot stack was lined with asbestos block-type insulation and required remediation prior to stack replacement. CMS prepared the asbestos design drawings and procured the contractor for this work. Remediation took approximately two weeks.


---