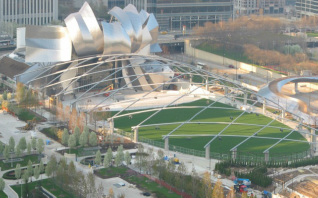 Pritzker Music Pavilion, Millennium Park

Client: City of Chicago
Completed: June 2004
Construction Contract: $43,500,000
Primary Responsibility: Project Manager from award of the Contract to the General Contractor until closeout. Managed two separate contracts with the General Contractor, the Architect, and all Consultants.

This project designed by Gehry Partners is now part of the identity of Chicago. In addition to the curved metal "ribbons" that form the most identifiable part of the Pavilion, the project included a curved metal trellis over the "great lawn", a state of the art sound and lighting system, custom-designed curved wood bandshell, practice rooms and support spaces.

The large proscenium, stage, and choral riser area opens up to the seating by way of 60 foot high sliding glass doors. The project includes a massive trellis system over the lawn area, state of the art sound system, seating for 4000 people, and lawn seating for an additional 7000. The project was completed and opened in July of 2004 with much critical acclaim for the architecture, sound system, public art, and the positive development of what was formerly a railroad right-of-way in north Grant Park.

This was an extremely complex project that included design-build components (panel structure, sliding glass doors, and control mix position movable structure) and many complex engineering and construction challenges. All aspects of management of the project were Paul Clausen's responsibility, including coordination with the other aspects of Millennium Park, which were managed by URS Corporation. This included oversight of Walsh Construction, who had two separate contracts for the work and had two separate project teams.

There were many challenges on this project, only one of which was managing the Architect, Gehry Partners, LLP. Because they are located in California, they were only on-site every two weeks. In their absence, with his extensive architectural and construction management background, Mr. Clausen was able to make daily decisions regarding design and execution of the work. All of the consultants, MEP, Structural, Sound, and Theater were contracted directly with the Owner instead of the Architect. Mr. Clausen wrote and negotiated all of the consultant agreements to establish their accountability to the Owner while preserving the typical Architect/Consultant relationship.
---